Account¶
Use the left menu to go to the account settings: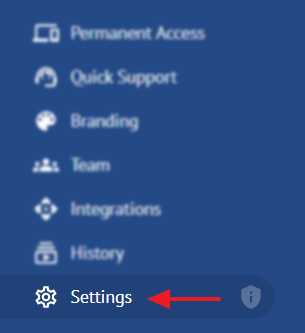 Profile¶
Profile settings are used for customization when displaying personal account and connection interfaces: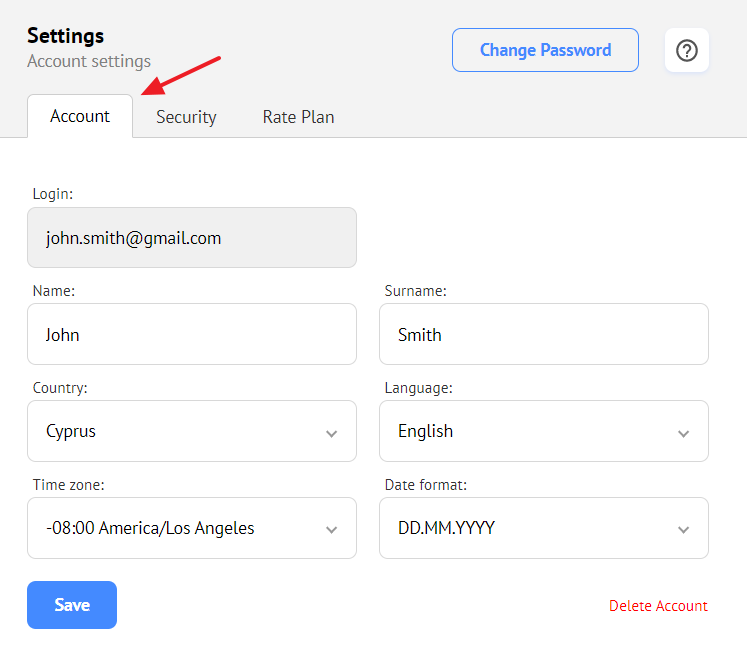 The following settings are available:
Name and surname
Country
System language
Timezone
Date format
Login/email change¶
To edit your email, click Change: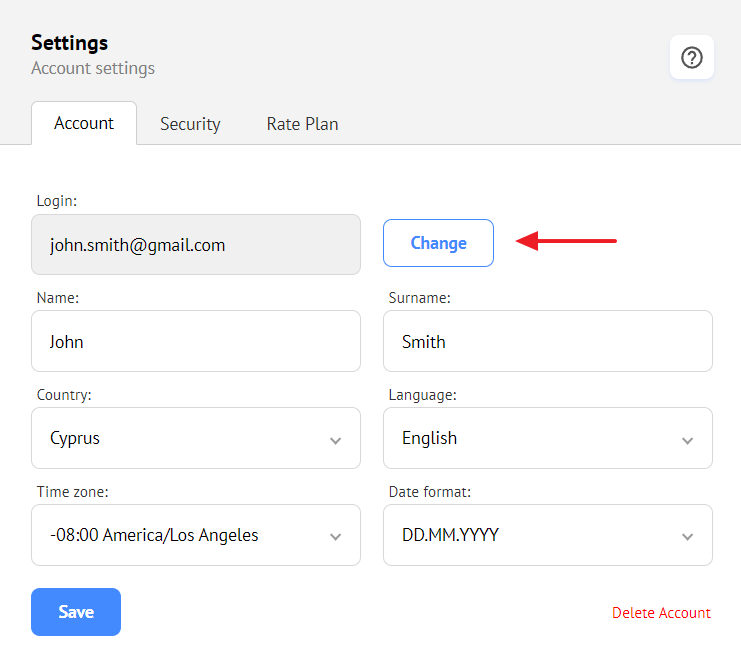 Enter your new email: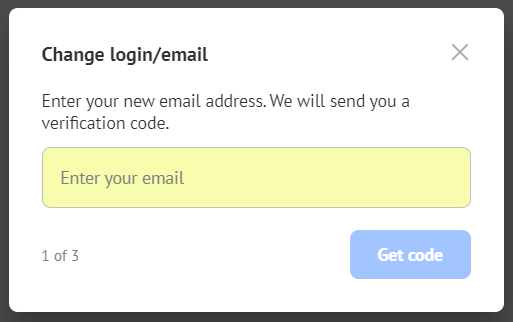 The verification window will appear:
Check your mailbox and enter the received code into the verification window: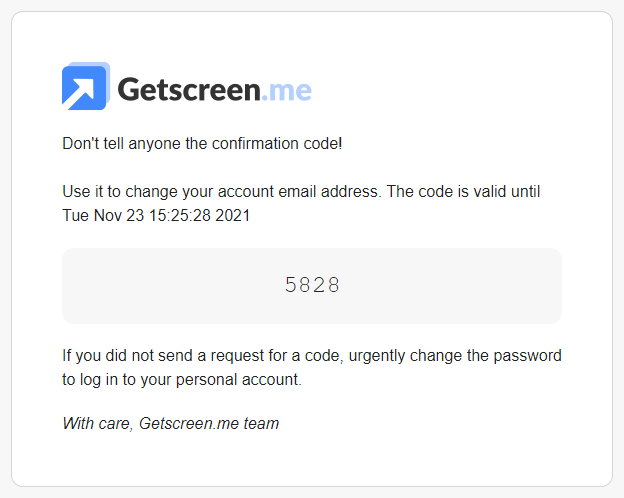 Enter your current password to confirm the change: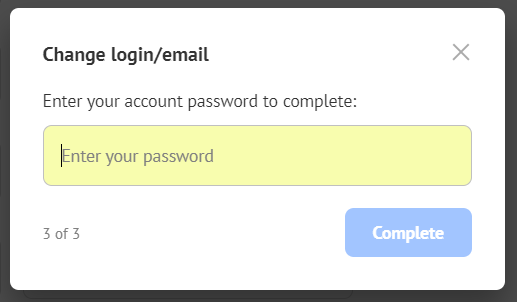 After that, your login email will be changed.
Password change¶
To change your password, use the button in the upper right corner:

The new password should be at least 6 characters long and consist of numbers and letters.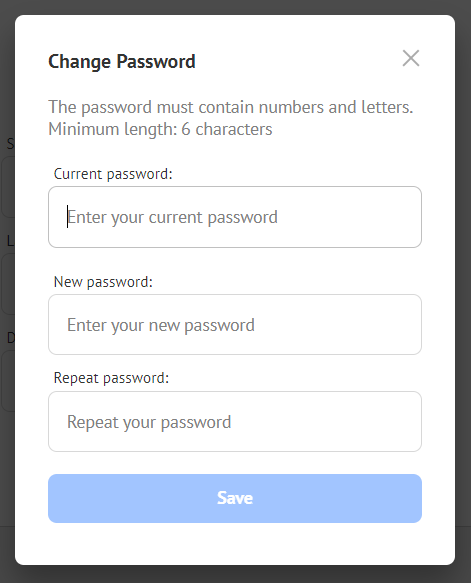 Deleting an account¶
To delete your account, use the link in the lower right corner of the page: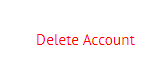 After that, you will be prompted to confirm the operation by entering your current password: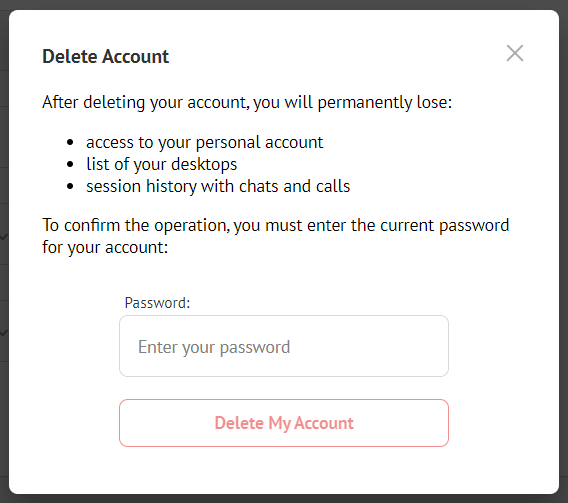 Paid plan subscriptions are automatically canceled after you delete your account.
Two-factor authentication¶
To enable two-factor authentication, go to the Security tab: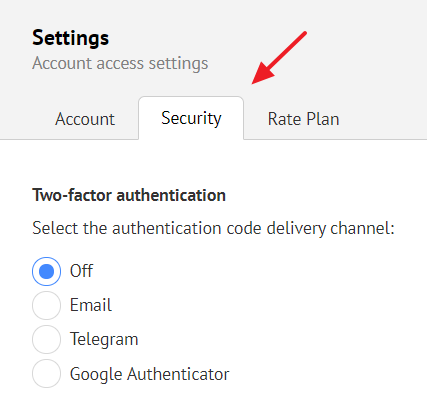 Email¶
When choosing Email as a delivery channel, no additional actions are required: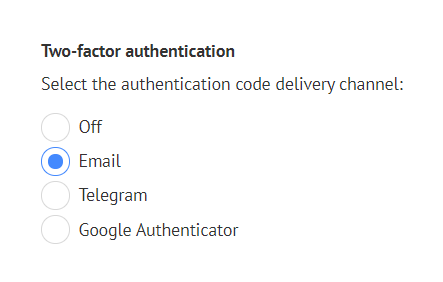 During the next login, you will see a window for entering the code, while all your personal account data is hidden: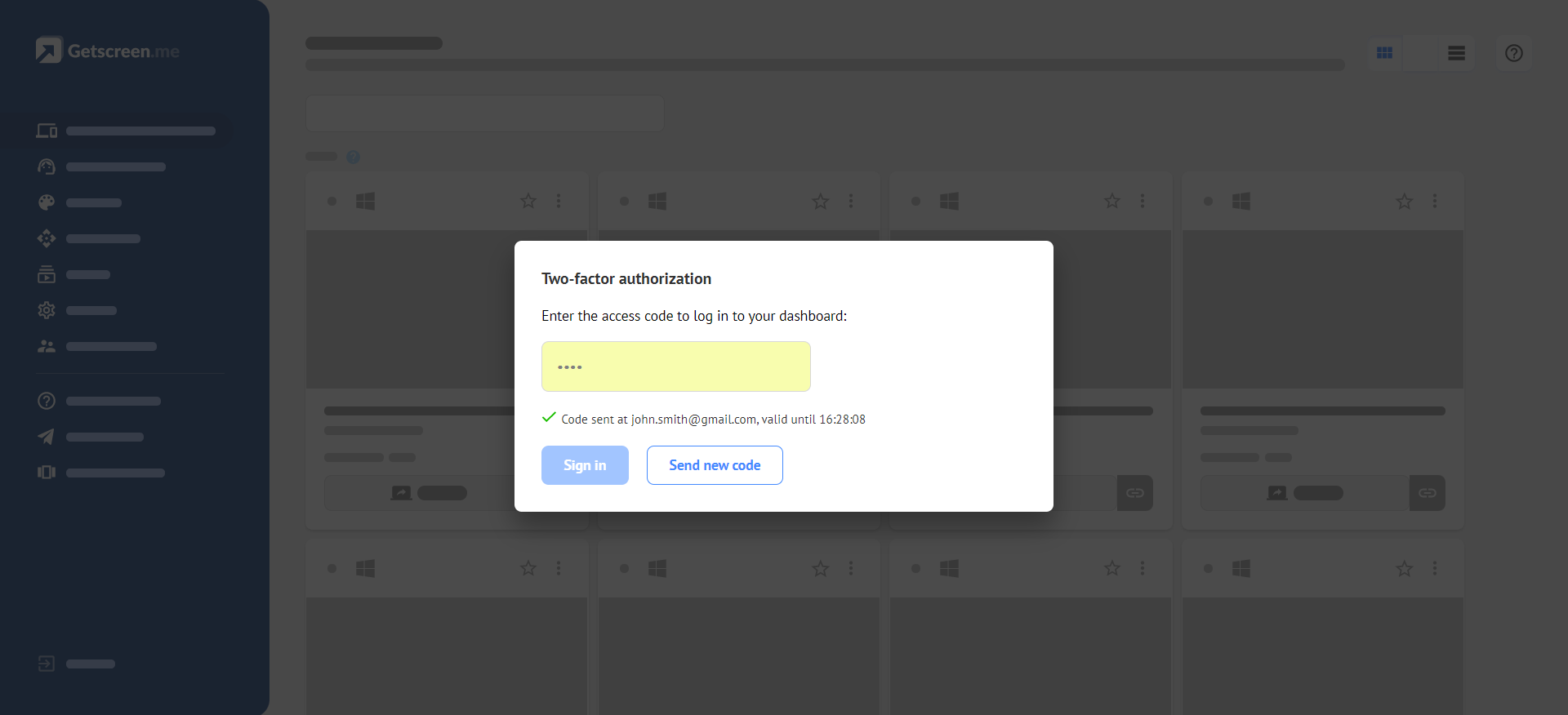 An email with the confirmation code will be sent to the email address assigned to your account: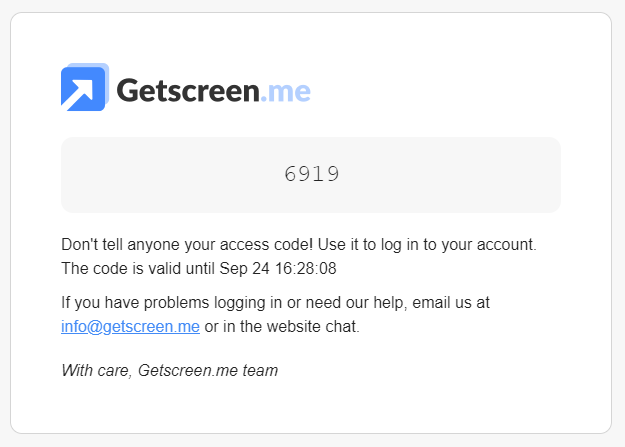 Telegram¶
When choosing Telegram as a delivery channel, the confirmation window is opened right away: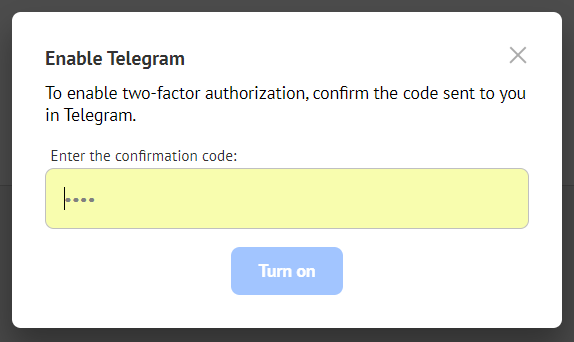 Enter the code obtained from Getscreen.me Bot in Telegram:

To get messages, configure integration with Telegram.
Google Authenticator¶
When choosing Google Authenticator as a delivery channel, you will see the window with the links to the application in App Store and Google Play. After downloading and installing Google Authenticator to your mobile device, move on to the next step: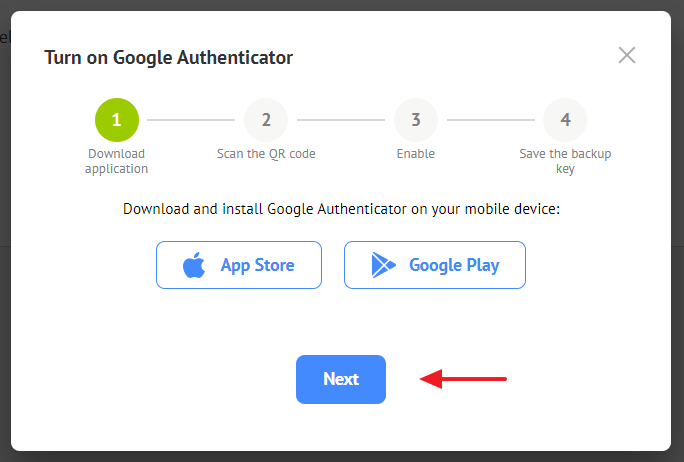 Next, you will see a window with a QR code and a key: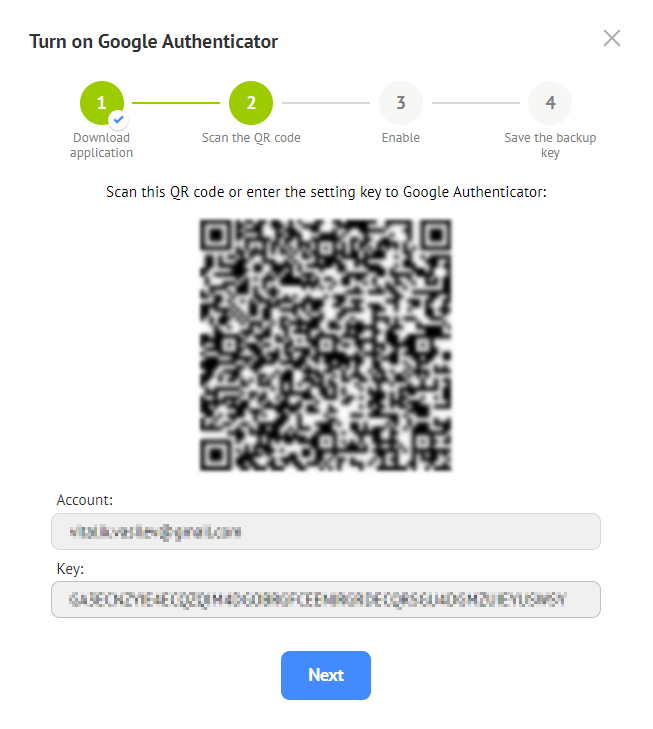 Scan the QR code in Google Authenticator or enter the code manually and move on to the next step.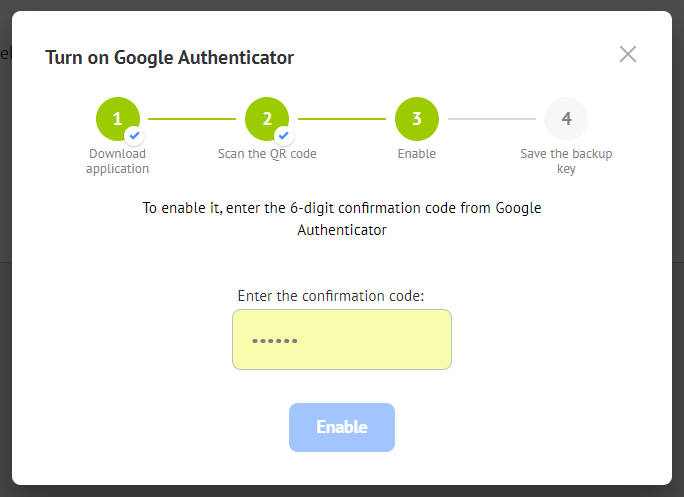 Enter the six-digit code from Google Authenticator to complete the setup.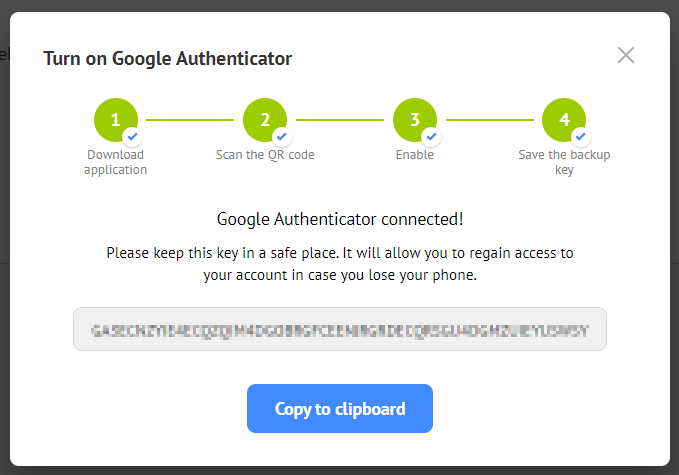 We strongly recommend that you keep your key in a secure place to regain access to your account in case you lose your phone.
Disabling¶
To disable two-factor authentication, select Off and confirm your action with the code.
---
Last update: December 1st, 2023